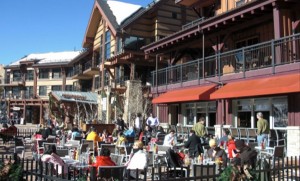 ASPEN—The Related Companies affiliate that closed on the acquisition of Base Village last week paid $90 million for the collection of properties at the base of Snowmass Ski Area, public records show, while securing a nearly $150 million loan.
It may seem like a low purchase price for the base area assets, which were once touted as a $1 billion development. But several factors need to be considered in this post-recession, post-foreclosure age.
Properties that changed hands include the entire Viceroy Snowmass hotel, retail units, a total of 23 unsold Capitol Peak and Hayden Lodge condominium units, the unfinished Arrival Center, the parking garage, and various Base Village land parcels.
It's a different set of properties—and a different era—than when a Related joint venture bought Base Village from Intrawest and the Aspen Skiing Co. for $169 million in 2007. At that time, Related WestPac bought the nine-acre parcel and development rights for a promising mixed-use real estate development that included hundreds of unsold condos. Now, the majority of the 90 or so condos in Hayden and Capitol Peak lodges have been built and sold, and Related will have another go at selling the 152 condo hotel units in the Viceroy—many of which had been under contract until group litigation forced a return of the deposits in April 2011.
Related will also have to negotiate with the Town of Snowmass Village for an extension to Base Village development rights, which expire in 2014. Related has not announced plans for further development beyond some minor projects such as improvements to the arrival center.
Records from the Pitkin County Clerk and Recorder's Office also show that the Related affiliate, Snowmass Acquisition Company LLC, borrowed $149.6 million from German American Capital Company, a New York subsidiary of Deutsche Bank. The amount pales in comparison to the $520 million Related borrowed in 2007 for acquisition and construction of Base Village.
Then the consortium of banks that loaned the money sued for default on the loans, claiming Related owed them over $500 million. The banks put Base Village into receivership and foreclosed on the property, buying it back at a foreclosure auction in November 2011 for $138 million.
The most recent sale reportedly includes a private settlement of the various lawsuits between Related and its Base Village lenders.
Documents recorded on Friday also show that about a dozen liens have been released on properties within the project. After construction stalled on the base in 2009, several contractors and subcontractors sued for nonpayment and other claims; those matters appear to have been settled as part of the Base Village transfer, although the details of the settlements are not made clear in the public documents.
One local real estate expert, who wished to remain anonymous, said there's probably a lot more than meets the eye to the $90 million publicly recorded sale price for Base Village. Without being privy to any details of the transaction, the expert noted that the jumble of lawsuits and other complexities of the relationship between Related and its lenders probably factored into what many call an artificially low price. For example, perhaps attorneys' fees and other considerations were settled privately between the two parties.
Noting that the announcement of Related's planned re-acquisition of Base Village and its settlement of litigation was made in early May, the expert suggested that there must have been more negotiation than anticipated if it took some five months to close the deal.
The $90 million property transfer (recorded as a quit claim deed), $149.6 million deed of trust, and release of lien statements were all recorded locally on Friday, Sept. 28. Most of the transactions were between Snowmass BV Holdco LLC (the banks) and Snowmass Acquisition Company LLC (Related).