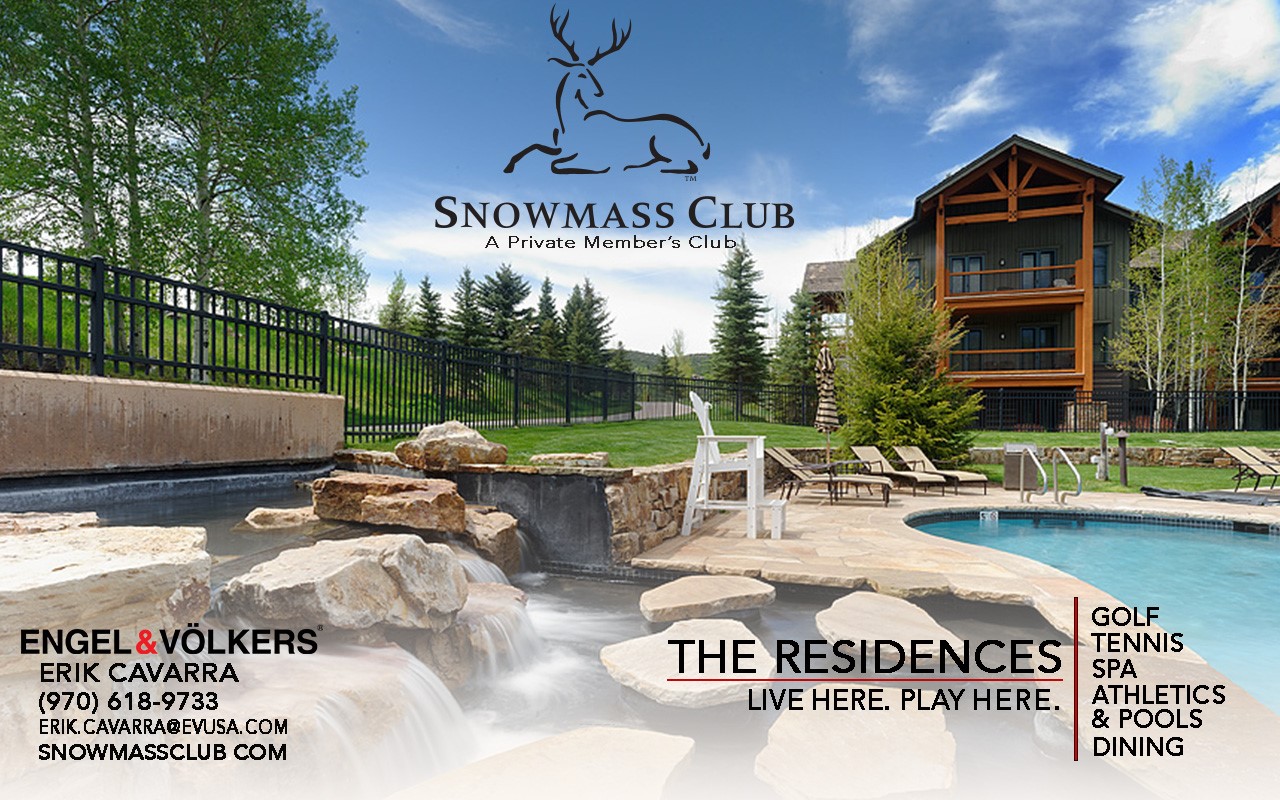 Ownership
Located on the Jim Engh golf course and nestled on a 210-acre masterpiece, the only true year round resort in Snowmass Village, the finely appointed vacation homes of the Residences at Snowmass Club feature breathtaking views of the Snowmass Ski Area and the Elk Mountain Range.
The Residences at Snowmass Club offer its owners the epitome of alpine indulgence. All the services of an upscale hotel are combined with the amenities and privileges of an exclusive country club, and rolled into one incredible opportunity in Snowmass for a fraction of the cost of whole ownership.
The Residences are sold in 1/7th or 1/8th Ownership as deeded fractional interests that can be sold, placed in an estate, rented or exchanged within our Reciprocity Program. Owners enjoy 40 remodeled and beautifully appointed 2 to 5 Bedroom Residences.
Within the Residences, Membership and access to the Snowmass Club Amenities are included in the price and Golf is only a cart fee for access.
Each Owner receives (2) Planned Weeks of Usage in the Winter, and (2) Planed Weeks of Usage in the Summer. These Weeks are selected (6) months prior to the Start of Each Season. After these weeks are allocated, Owners also have access to Space Available Weeks within each Season. One Space available week may be reserved (5) months in advance and after the Planned Weeks are confirmed. In addition, Space Available Weeks may also be selected within (16) days and prior to the start of a given week desired. In addition, Owners also have access to any available weeks within the Shoulder Season's or Off Season time periods of a given year depending upon availability.

Weeks are selected based upon a Rotational Calendar. When buying Fractional Ownership, Owners purchase a Deed to a specific Residence but enjoy access to all Residences within the Size purchased. More importantly, Owners purchase a Rotational Letter for their interval interest. This letter, (A-G or A-H) for 1/7th or 1/8th ownership, falls within different positions from Year to Year and Season to Season within the Reservation Calendars, and dependent upon where the letter falls, determines the likelihood of receiving certain weeks within the Year/Seasons. As an example, there would be no way to guarantee Christmas or Spring Break each year. However, the more flexible Owners are, the more beneficial the program works over the years.

In addition, Owners may rent any of their (4) Planned Weeks: (2) Winter & (2) Summer but are not allowed to rent Space Available or Off Season Weeks. There is a commission charged, and the owner is responsible for the housekeeping fee and renters unaccompanied guest fee. All other proceeds are Net to the Owner.

Ownership Breakdown

Phase I PRC: (1/7TH Interest)

14 Two-Bedroom Residences
1,439 – 1,929 SQ. FT
16 Three-Bedroom Residences
1,861 – 2,177 SQ. FT

Phase II Sanctuary: (1/8TH Interest)

1 Three-Bedroom Residences
2,130 – 2,165 SQ. FT
6 Four-Bedroom Residences
2,366 – 2,454 SQ. FT
2 Five-Bedroom Residences
3,270 – 3,472 SQ. FT

Phase I

Two Bedroom: $73,000 – $80,000
Three Bedroom: $95,000 – $100,000

Phase II

Three Bedroom: Not Currently Available
Four Bedroom: $199,000
Five Bedroom: $225,000

(We are currently sold out as a Developer and only Re-Sales are available)

Homeowners Association Dues 2017/2018

Phase I Two-bedroom $2,908
Phase I Three-bedroom $3,578
Phase II Three-bedroom $3,681
Phase II Four-bedroom $4117
Phase II Five-bedroom $6,047
(Amounts are Per Quarter)

Housekeeping Fees Per Week

Phase I Two-bedroom $351
Phase I Three-bedroom $451
Phase II Three-bedroom $432
Phase II Four-bedroom $507
Phase II Five-bedroom $592

Taxes, insurance, cost of membership, reserve funds and other fees are all contained within the HOA Dues. Owners only pay an additional housekeeping fee per week during their stay.

For more information, please Contact US today.

Amenities & Features

The Residences at Snowmass Club provide an unmatched country club lifestyle experience.

19,000 sq ft Athletic Club
Fitness Classes & Personal Trainers
13 Tennis Courts (2 indoor & 11 outdoor)
3 Swimming Pools
Kids Game Room
On-site Ski Rentals
On-site Daycare
Ski Valet
Pre-arrival Shopping Service Available
Private Ski Lockers with Boot Dryers at Two Creeks
Jim Engh 18 Hole Golf Course
Dining at Sage Restaurant & Bar, Daly Beach Club, and Black Saddle Bar & Grille
Concierge, Front Desk, Bell Stand
Complimentary Transportation to & from Aspen, Snowmass Village, Two Creeks, the Snowmass Center, Buttermilk, Aspen Highlands, and the Aspen Airport.
Daily Houskeeping
Buisness Center
Cross Country Ski Center
Hiking & Biking from the Back Door
Reduced Rate for Golf and Renter Discounts on Property
Fax/Copier/Printer provided in residence by request

Features

Comfort & Style

Each Residence comes fully furnished and turn-key with outdoor patios and balconies providing a cozy and comfortable living experience. Features include spacious two and three bedroom condominiums with rare four bedroom townhomes and five bedroom penthouses.Come home to our award-winning, eco-friendly and lavishly furnished interiors which have been newly remodeled by the prestigious Rowland & Broughton Design and Architecture firm.

Luxurious Open Living Spaces
Newly Redecorated Interiors by Rowland and Broughton
Gas Fireplaces with Stone Detailing
Slab Marble Countertops
Outdoor Patios and Balconies with Gas Grills
Large Gourmet Kitchens
Convenient Washers & Dyers
Flat Screen Televisions
Complimentary Underground Parking
High Speed Wireless
Superior Linens & Towels